Written By Brandy Centolanza
Philadelphia, PA had a great moment thanks to the Eagles' first Super Bowl win, but the historic city is more than just its football team. The City of Brotherly Love is an ideal place for families to visit. Kids of all ages will enjoy museum hopping, rediscovering history, sightseeing, and indulging in genuine Philadelphia cheesesteaks, of course. If you are considering a weekend or week long trip in Philadelphia, be sure to add these to your list of places to visit.
The Franklin Institute Science Museum
Science enthusiasts will enjoy learning more about electricity, the brain, the Earth, and physics through the various exhibits at The Franklin Institute. Families can also discover how science is used in the world of sports as well as in locomotives and in flight; learn more about how numerous machines operate; and find out more about the human heart by "exploring" Franklin Institute's Giant Heart, one of its most popular attractions. The museum also boasts a planetarium, escape rooms, a virtual reality exhibit, and other rotating exhibits. From March 31 through September 3, video game lovers can experience the evolution of their favorite games through the years in Game Masters.
Cost: Adults, $23; Children, 3-11, $19; additional fees for special exhibits. **To save money this venue can be included in your The Philadelphia Pass
Website: www.fi.edu
Tip: Families with passes to the Virginia Living Museum get into the Franklin Institute for free thanks to the ASTC Travel Passport (general admission only; fees apply for special exhibits)
Please Touch Museum
This children's museum is designed for children from six months up to age seven. Please Touch has nearly a dozen attractions including a mock city display where little ones can hop on board a real car, city bus, and trolley; Wonderland, where kids can dress up and pretend to be a part of Alice's adventure; a children's garden; a water play area; a rocket room; an imagination playground; a toddler zone; and a carousel. Like the Franklin Institute, Please Touch Museum also has temporary exhibits–so check their website before you go.
Cost: $19 – (Check Groupon Local – at time of this article publishing they had a discount for the Please Touch Museum)
Website: www.pleasetouchmuseum.org
Tip: Arrive early and park for free on the street to avoid the museum's $12 parking fee.
Independence Hall & The Liberty Bell Center
History buffs will enjoy visiting Independence Hall, the building where both the Declaration of Independence and the U.S. Constitution were debated and signed. Some of the original furnishings remain within Independence Hall, including the Rising Sun Armchair where George Washington sat. Nearby is The Liberty Bell Center, where families can get a close up view of The Liberty Bell, one of our country's first signs of freedom, as well as its famous crack.
Cost: free
Website: www.nps.gov/planyourvisit/libertybellcenter.htm
Tip: No tickets required for Liberty Bell Center; Order your timed tickets for the Independence Hall tour ahead of time online to ensure you get the day and time you want because tickets go quickly.
Adventure Aquarium
Adventure Aquarium is right near Philadelphia on the Camden Waterfront and houses 8,500 aquatic species in around two million gallons of water. It is the only aquarium in the world to exhibit hippos. They have a rope suspension bridge hanging inches over the shark tank, Shark Realm, that you can walk on , and a touch a shark exhibit. Little Blue penguins are permanent residents
Cost: Adult $29.99; Child $21.99 **To save money this venue can be included in your The Philadelphia Pass
Website: Adventure Aquarium
Tip: If you can take the light rail you will save at least $10 in parking. There is an Aquarium stop on the light rail. The 3D movie is short and worth the watch.
"Rocky Steps" and the Rocky Statue
Fondly known as the "Rocky Steps", these are the 72 steps leading up to the Philadelphia Museum of Art (the next must see place) and they are the steps Rocky Balboa ran up in every Rocky movie.
The over 8 foot bronze statue was made for the movie Rocky III, by sculptor A. Thomas Schomberg. Stalone donated it to the City of Philadelphia after finishing the movie. It has been a fun tourist destination ever since. It has been located at the base of the steps of the Philadelphia Museum of Art (the "Rocky Steps") since 2006. You can go right up to it and snap a picture then run those stairs. It is a great view when you reach the top…and of course throw your fists in the air!
Cost: Free
Tip: Plan on going to the Philadelphia Museum of Art since you already walked up the stairs!
Philadelphia Museum of Art
If you just visited the Rocky Statue and ran the steps, you will already be at the entrance of this grand museum. Now is the perfect chance to visit this amazing museum. This is one of the largest and most famous art museums in the country and its vast collection of art and sculpture from many periods in art and history will have you mesmerized for hours. It is a museum not to be missed. Before you go visit their website to see what the installations are and if they are running any kids programs.
Cost: Admission is for 2 consecutive days to the Museum's main building, the Perelman Building, the Rodin Museum (small but wonderful museum), and historic house Cedar Grove (April–December): Adults $20; Seniors (65 & over) $18; Students (with valid ID) $14; Youth (13–18) $14; Children (12 & under) Free
**The Philadelphia Museum of Art can be included in your The Philadelphia Pass
Website: Philadelphia Museum of Art
Tip: Kids 12 and under enjoy free admission so this is a great option to keep on budget. Also, don't miss the sculpture garden before you leave.
[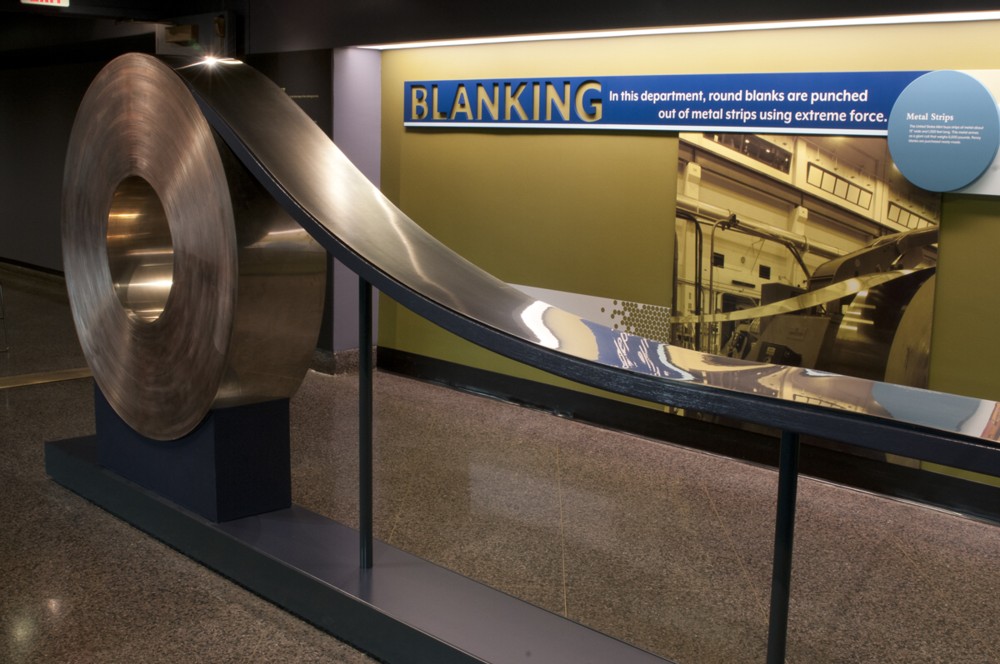 Luce Group photo[/caption]
U. S. Mint
Not far from Independence Hall and The Liberty Bell Center are Christ Church Burial Ground, which is the final resting place of Benjamin Franklin, and the U.S. Mint. At the U.S. Mint, families can take a tour of how American coins are made. The Mint has been in continuous operation for more than 200 years and houses the first coining press used to make the first coins in the U.S. in 1792.
Cost: free
Website: www.usmint.gov
Tip: Tours are self-guided and last about 45 minutes.
Cat Highway – Philadelphia Zoo Photo[/caption]
Philadelphia Zoo
Philadelphia also has a zoo where children old and young alike can enjoy seeing various animals from all over the world. In the zoo's newest exhibit, Wings of Asia, guests can feed unique Asian birds in an outdoor free flight aviary. In addition to the animal attractions, the zoo also has a carousel, swan boats, behind-the-scenes meet and greet opportunities, and the Zooballoon, where visitors can take a ten-minute ride 400 feet up in the air and get a one-of-a-kind view of the creatures below.
Cost: Adults $24.95; $19.95 children (ages 2 – 11) **This venue can be included in your The Philadelphia Pass
Website: www.philadelphiazoo.org
Tip: Save money and time in line by bringing your own lunch and snacks.
Eastern State Penitentiary Instagram[/caption]
Eastern State Penitentiary
See what a prison built by Quakers looked like; they believed in solitary confinement for rehabilitation. Al Capone had a suite here. This place was no holiday house. It is haunting, sprawling, falling apart and fascinating. And yet their tours are kid friendly and interactive. They have Hands-On History interactive experiences through out your visit where guides will literally give you the keys to the cell to try. These conversations last up to 5 minutes and give you an immersive and unforgettable experience.
Cost: Adult $14; Senior (62+) $12; Student $10; Child $10 (7 -12 years old) Children under 7 enjoy free admission **This venue can be included in your The Philadelphia Pass
Website: www.easternstate.org
Tip: If you go during the fall and really like Halloween, check out their Terror Behind the Walls, America's largest haunted house and ranked #1 by Forbes. It runs select nights nights, Sept. 21 through Nov. 10, 2018.
Other Places of Interest
Take in a Phillies baseball game at Citizens Bank. The baseball stadium is also home to the "Phanatic Phun" zone, a small playground with slides, tunnels, and games for kids eight and under. Or, go strolling through Reading Terminal Market, a large indoor farmers' market that also has restaurants where you can pick up lunch.
Jim's South Street
Where to eat
You can play tourist and grab a cheesesteak at Geno's or Pat's, or go off the beaten path and try Jim's South St or Tony Luke's. We loved Jim's, order with Wiz…of course! More than likely the line will be around the building but it is worth wait!! For pizza, there is Lorenzo's Pizza, also on South Street; for more adventurous fare, try Nine Ting, an all-you-can eat Korean BBQ in Chinatown.
Also, Philadelphia is known for its street food. Their rectangular pretzels, and banana chips are always great for snacking and their food trucks have a wide variety of culinary delights.
Where to stay
There are plenty of chain hotels in the heart of the city like Philadelphia Marriott Downtown, Wyndham Philadelphia Historic District or Hilton Philadelphia City Avenue. If you like something a little out of the ordinary Philadelphia Hotel Bella Vista is an independent non tradition boutique style hotel housed in three historic 1860 townhouses located center city Philadelphia. If you want to experience beautiful hotels then the Renaissance Philadelphia Downtown Hotel the hip Sonesta Philadelphia Rittenhouse Square or the famous The Rittenhouse Philadelphia are fabulous. However, to save a few dollars on hotels, reserve a hotel near the airport like the Embassy Suites Philadelphia – Airport or the sports complex. There is ample parking in the city at a cost of roughly $20 per day.
Nearby Attractions
Do your children love amusement parks and roller coaster rides? Take a few extra days and hit Sesame Place in Langhorne, PA, or Hershey Park and Hershey's Chocolate World in Hershey, PA. Or, explore the life of the Amish in Lancaster County. Stop by the Strasburg Railroad where Thomas the Train visits (check Strasburg Railroad's website for dates) and enjoy a 45-minute round-trip train ride through Amish Country.
Discounts:
Before you go, visit the The Philadelphia Pass website and select the venues you want to visit. They have 36 different places for you to add to your pass, so you will find ones we haven't mentioned but are really worth seeing.
Also make sure to check Groupon Local for Philadelphia. At the time of publication there was a Groupon for the Please Touch Museum, Tickets to Philadelphia Phillies Game at Citizens Park, and hotel deals too!
Final Tips:
If you need a day to run around a park or splash pad, Philadelphia has plenty. Try Dilworth Park on the west side of Philadelphia's City Hall. It has a huge splash area, live music, outdoor movies, all-American BBQ and more. And the last tip is… don't forget to bring walking shoes, as this is a walking city. Enjoy!