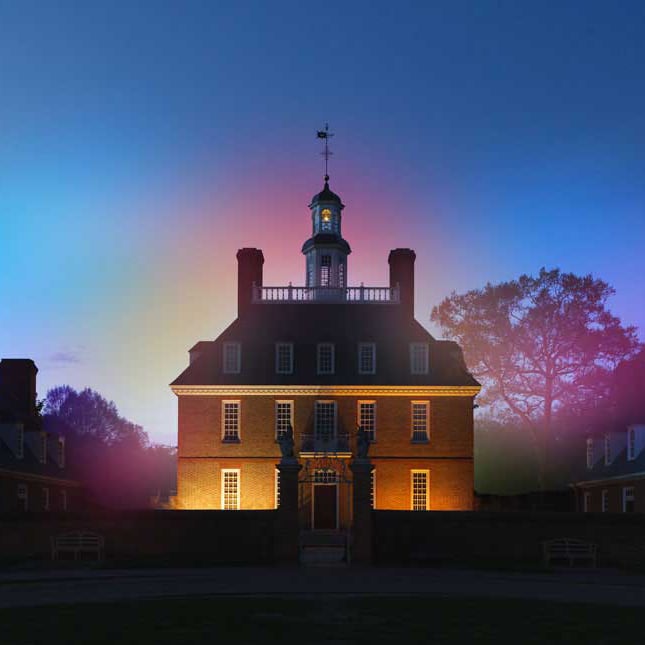 Evening Programs at Colonial Williamsburg – Yes, there is a night life in CW
Add a Little Drama to Your Nightlife! There is a night life in Colonial Williamsburg with their Evening Programs! The fun doesn't end when the sun goes down. Evening entertainment includes signature favorites and new enchanting experiences. Get tickets to take a spooky ghost tour or enjoy all of the fun without the fright on Haunted Williamsburg or Ghost Walk Junior, the official ghost tours of Colonial Williamsburg. Plus, enjoy other seasonal storytelling and staged experiences! Remember the programs below would go great with a meal at Chownings Tavern or an evening of drinks on the Social Terrace!
For the full list of programming you can visit Evening Programs at Colonial Williamsburg or keep scrolling!
FREE and open to the public.
Nov. 2, 3, 4 | 6 PM–9 PM
Nov. 9, 10, 11| | 6 PM–9 PM
Nov. 16, 17, 18| 6PM-9PM
Nov. 24, 25| | 6 PM–9 PM
Dec. 22, 23| | 6 PM–9 PM
Head to Colonial Williamsburg at night on the historic Duke of Gloucester Street – they will be Lighting of the Cressets this fall! The 18th-century lighting brings the streets to life at night – so don't miss the strolling musicians and make sure to take in an evening program like To Hang a Pirate, Cry Witch, Haunted Williamsburg, Capitol Concerts or Ghost Walk Jr. Enjoy the fall evenings – the cressets make the streets glow and it is a beautiful sight! Learn more here
---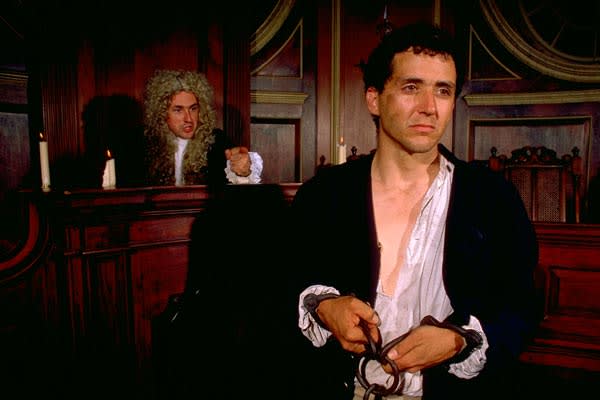 Wednesday & Saturday Nights at 7:30 PM & 9 PM Capitol General Court through Nov 22 (See full Schedule here.)
**We saw this one in July 2022 – it is a great one hour re-enactment of the trial of one of Blackbeard's pirates! We really enjoyed it – it is very interactive and we will go back and see it again! – Staff at WilliamsburgFamilies.com

You may have known that in 1718, a Royal Navy expedition, dispatched from Virginia, killed Blackbeard the pirate off the coast of North Carolina. But did you know that 15 members of his crew were captured and brought to the Public Gaol in Williamsburg? They were tried for piracy at the Capitol by Virginia Governor Alexander Spotswood in early 1719. Join in this recreation of the actual trial of Israel Hands, a member of Blackbeard's crew. Hear the evidence and make a judgment! Due to the subject matter, this program is not recommended for young children. Tickets can be purchased online – learn more
---
Haunted Williamsburg Nightly at 7:00 pm and 8:30 pm. (See full schedule here) Aug through Nov 22, 2023
Haunted Williamsburg runs nightly . It is the official ghost tour of Colonial Williamsburg. From authentic 18th-century colonial ghost stories to creepy modern-day encounters,
Love a good scare or to hear a spooky story? How about a walking through Colonial Williamsburg at night with a ghost teller relaying authentic ghost stories from the 1700s? And maybe they will mention a few creepy recent encounters too. Sound fun? It is!! And Haunted Williamsburg is the only tour with exclusive access to historic outdoor spaces, featuring costumed storytellers who share their unnerving tales. The event is a one-hour candlelit walking ghost tour takes you strolling through town, into gardens, and beyond the barriers to our most haunted sites.
That means you will have exclusive access to historic outdoor spaces, with costumed storytellers sharing their unnerving tales. The total event runs an hour and begins at the Play House Stage on Palace Green. Get your tickets online!
---
Select Monday and Friday from now – Nov 20, 2023 with extra evens on Tuesday, Oct 24 & Oct 31, 2023 and (visit here to see any changes to the schedule)
Capitol General Court
You decide! Is Grace Sherwood a witch? Question witnesses. Weigh evidence. Finally, cast your vote for the guilt or innocence of "the Virginia Witch." Not appropriate for young children due to subject matter and intense emotion. Get your tickets!
---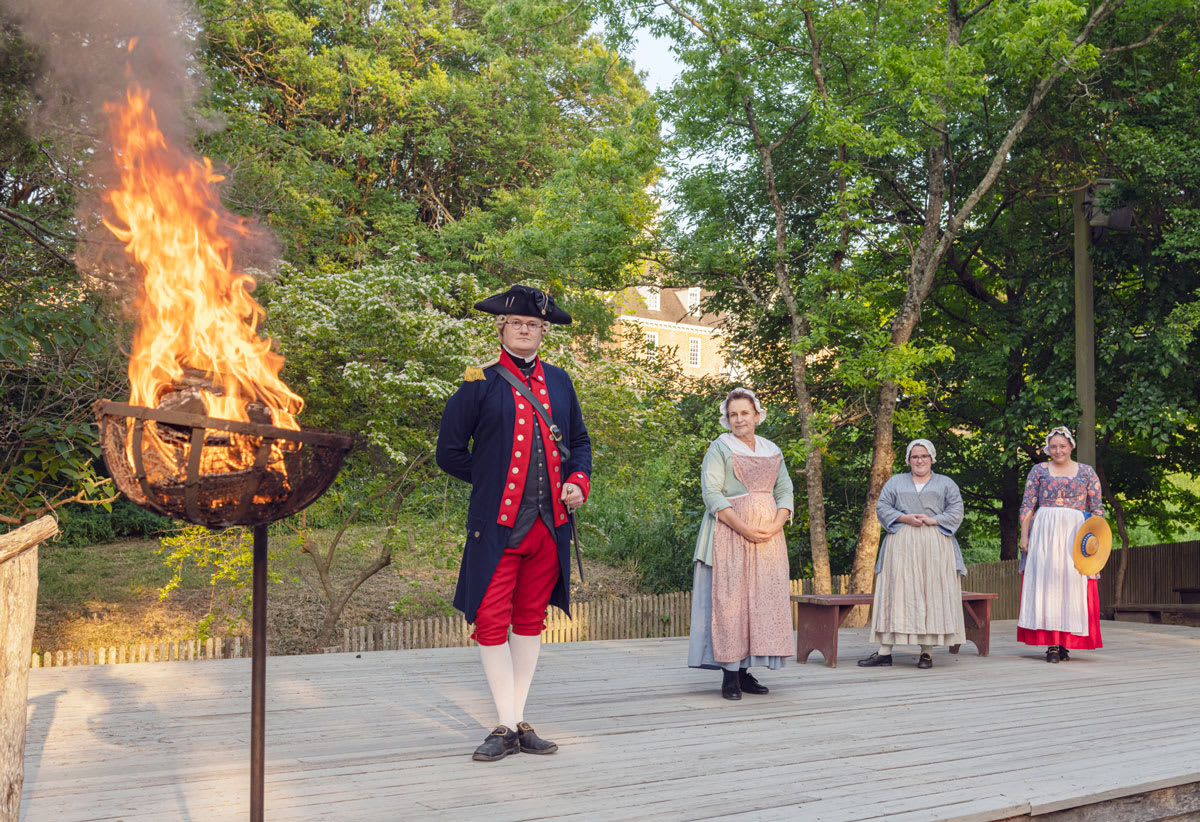 Revolutionary Points of View
7 PM & 8:30 Shows on select Thursday & Saturday evenings – thru – Nov 18, 2023
Open to the Public. Separate ticketed event.
(See full schedule and ticket info here)
It's the eve of the American Revolution, and there are just as many opinions about war and independence as we hear about politics and religion today. Step back in time and encounter points of view that run the gamut. Then, engage in the most crucial debate in our nation's history–you will decide whether we remain British or become Americans? Live Theatre at the Capitol Hall of Burgesses. More info
---
Palace Concert
Select Tuesday Evenings from 7:30 pm and 9 pm to 8 pm Sept 26 – Nov 21, 2023
Event is open to the public. Separate ticketed event.
See Full Schedule and get tickets here
The regal Palace of the royal governor comes to life as Colonial Williamsburg's early music ensemble, the Governor's Musick, offers an elegant evening of chamber music showcasing 17th- and 18th-century music for harpsichord, voice, flute, and strings. The concert repertoire is custom-crafted for each series and varies throughout the year. The program includes music known in Virginia as well as music from Europe. Not appropriate for children ages six and under. Full Schedule and get tickets here
---
Official Ghost Walk
Select evenings – check back – TBD. Everyone loves a haunted tale! Bring the entire family for all of the phantom fun with none of the nightmares. Enjoy this 45-minute ghost tour of traditional spooky stories with a Colonial Williamsburg flavor.
---
Discounts on evening programs are available to all Annual, and Good Neighbor pass holders. To receive that discount, passholders must purchase tickets in person at any Colonial Williamsburg ticketing location, or by calling (888) 965-7254.
For more events in Colonial Williamsburg visit our Colonial Williamsburg Events Page, our Daily Calendar or Colonial Williamsburg website.