Family Travel in Virginia: Take the Family on Presidents' Homes Tour
Written By Brandy Centolanza
Virginians are fortunate enough to live in a place where history comes alive every day. Our commonwealth is the birthplace of the most United States presidents, eight to be exact. This Presidents' Day, consider taking a road trip with your family to visit one of these historic landmarks dedicated to Virginia's own home-grown chief executives. Keep this page bookmarked for future family travel trips in Virginia.
---
Monticello
Monticello
As most of us know, Monticello is the home of Thomas Jefferson, one of the Founding Fathers of the United States of America and the country's third president. Situated near Charlottesville, the estate is a frequent field trip destination for students, especially fourth graders whose history curriculum focuses on Virginia's past. Monticello's grounds include the house and plantation Thomas Jefferson lived in as well as a museum and presidential library. Here, families can explore Thomas Jefferson's home room by room on a guided tour. Highlights of the tour include his personal library, cabinet room, parlor, bed chambers, and tea room. Be sure to check out all his gadgets and inventions, including the dumbwaiters, which connect the wine cellar to the dining room. Monticello also has several historic gardens families can stroll through.
Cost: Price varies depending on time of year
Tips for family travel: Open year-round; Allow at least two hours for the visit; View the movie about Thomas Jefferson and the history of Monticello before you take the tour.
Other things to do: Enjoy a hike along the nearby Saunders-Monticello Trail, which connects Monticello to the neighboring community, including Carter Mountain Orchard. Then grab a bite to eat at Michie Tavern in Charlottesville.
Website: monticello.org
---
James Monroe's Highland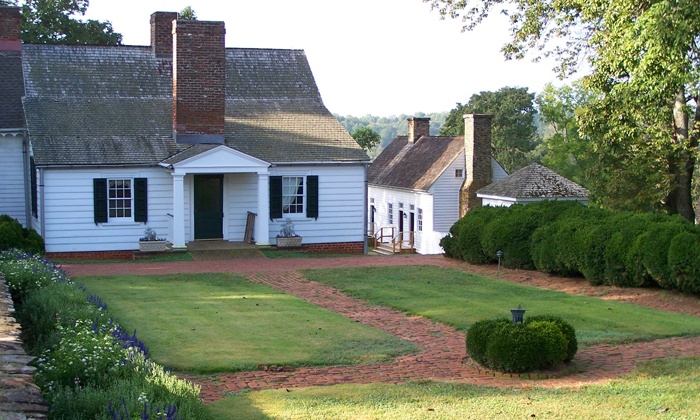 James Monroe's Highland
Located Charlottesville VA, Ash Lawn-Highland is the residence of James Monroe, our fifth president, who is most known for negotiating the Louisiana Purchase and the issue of the Monroe Doctrine. Guided tours of the house last 40 minutes. There are also gardens, a farm with animals, a picnic area, and self-guided tours of the outbuildings. Ash Lawn-Highland is actually part of the College of William & Mary, which was James Monroe's alma mater.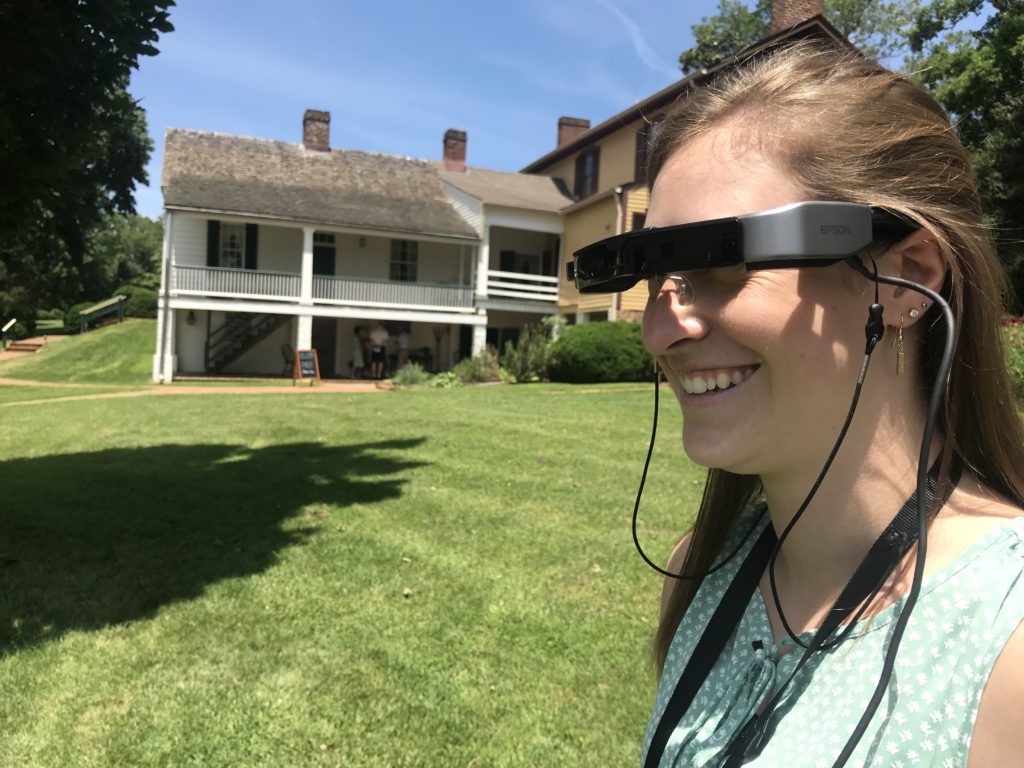 Cost:  Check Groupon for ticket offers – they do run them for this museum and that will save you some money! When you check their website below you will see different pricing options for tour, self guided and augmented reality experience.
Tips for family travel: Check out the augmented reality experience where you can witness conversations from 1819 of people who were at Highland. This is recommended for ages 7+. Ash Lawn-Highland is a mere three miles from Monticello, so consider  hitting both places in the same day.
Other things to do: Visit the Virginia Discovery Museum, a children's museum in downtown Charlottesville. Then stroll the Mall, visit a few bookstores, and grab a burger at Citizen Burger Bar.
Website: https://highland.org/
---
Montpelier
Photo: Kenneth M. Wyner, Courtesy of the Montpelier Foundation
Montpelier
Not far from Monticello is Montpelier, home of our fourth president, James Madison, and his wife, Dolley Madison, who is considered to be America's premiere First Lady. Different tour are options available, including the family-friendly tour "Discovering Montpelier," a hands-on tour in which children can explore paintings, artifacts, and the house itself, all up close. Montpelier also features a temple, a train depot, a museum and galleries, formal gardens, and active archeological dig sites as well as the gravesites of the Madison family and their slaves.
Cost: Check for pricing for adults and children but under 6 years old are free.
Tips for family travel: Open year-round; 45-minute drive from Monticello; Bring your walking shoes
and take advantage of more than eight-miles of hiking trails on site.
Other things to do: Montpelier is also 25 miles from Shenandoah National Park. Bring a picnic
lunch and check in the scenery here from Skyline Drive.
Website: montpelier.org
James Madison Museum of Orange County Heritage
129 Caroline Street, Orange, Virginia 22960 Call Us:  (540) 672-1776
Groupon is running a discount to the James Madison museum which is in Orange, VA only 6 miles from Montpelier.
"The first museum in the U.S. to honor our 4th President, Father of the Constitution, and author of the Bill of Rights, James Madison.  A blend of presidential, cultural and agricultural, the Museum houses a wonderful collection of the rich heritage of Orange County, Virginia.  Books, documents, costumes, furniture, farm equipment, presidential artifacts and a 1730's Patent ("Cube") House. There is something for everyone to enjoy.
Our mission is to collect and preserve artifacts of the historic and cultural heritage of 18th-20th century Orange and the Piedmont, Virginia; and to memorialize, in particular, James Madison, Jr., 4th President of the United States, his life and times, and in his interest in and unique contributions to the fields of political theory and government, economics and agriculture.  Further, we honor Orange-born Maj. Gen. Zachary Taylor, our 12th President."
Groupon is running a discount to the James Madison museum which is in Orange, VA only 6 miles from Montpelier.
---
Poplar Forest
Poplar Forest
Poplar Forest is the personal retreat home of Thomas Jefferson. The house at this unique site and all of its rooms are octagonal. During the 45-minute guided tour, all of the rooms are open with no barriers, providing guests with the opportunity to touch items and sit on the furniture. There is also plenty of space on the grounds for children to run around. Poplar Forest hosts several family-friendly events throughout the year such as a popular Independence Day celebration in July and a behind the scenes archeological tour in October.
Cost: $18 adults; $16 Senior/Military; $10 for children 12-18; $6 for children 6-11; under 6, free.
Tips for family travel: Open mid-March through December 30; The orientation video features Thomas Jefferson as portrayed by Bill Barker of Colonial Williamsburg, so be sure to check it out.
Other things to do: Poplar Forest is ten miles from downtown Lynchburg. Visit Amazement Square children's museum in Lynchburg and then have dinner at the Depot Grille along the railroad.
Website: poplarforest.org
---
Mount Vernon
Mount Vernon
There is plenty for families to see and do at Mount Vernon, the estate of our country's first president, none other than George Washington. Visit the mansion, the gardens, and the tombs of George Washington and his wife, Martha Washington. There is also a museum, outbuildings where families can discover more about historic trades, and a pioneer farm with historical interpreters and live animals. Other programming specifically geared toward families are a 20-minute 4-D movie centered on The Revolutionary War; children's crafts, games, and story hours; and an education center with a walk-in forensics laboratory.
Cost: $28, adults; $15 for children 6-11; under 6, free.
Tips for family travel: Open year-round; Mansion tour lasts 15-25 minutes; you can arrange for a set time for the tour. There are rocking chairs on the back porch overlooking the Potomac River. Dogs are also welcome on the grounds (not in the historic home) as part of the All the President's Pups walking tour on Saturdays during select months; there is an extra fee for this tour.
Other things to do: Bring the family on a Potomac River cruise, which you can board on-site.
Website: mountvernon.org
---
Woodrow Wilson Presidential Library and Museum
Woodrow Wilson Presidential Library and Museum
Staunton is home to the 28 th U.S. president, Woodrow Wilson. History buffs will appreciate a tour of the museum, which covers many monumental events of Woodrow Wilson's presidency, including women's suffrage, Prohibition, and World War I. An interactive World War I trench and Woodrow Wilson's 1919 restored limousine are also housed on site. There are guided tours of Woodrow Wilson's birthplace, which last 35 minutes, as well as a small kids' corner.
Cost: $15, adults; Seniors (65 and up) and Active Military – $14, Active College Student w/ valid ID – $10; $8 Youth 6-17; 5 and under free.
Tips for family travel: Inquire at the front desk about the children's scavenger hunts; various hunts are available based on age.
Other things to do: Staunton also boasts the Frontier Culture Museum, where families can get a glimpse at early American life, and the American Shakespeare Center, a recreation of Shakespeare's indoor theatre.
Website: woodrowwilson.org
---
Sherwood Forest & Berkeley Plantation
Sherwood Forest & Berkeley Plantation
Along Route 5 in Charles City County, families can experience Sherwood Forest, once home to President John Tyler, and Berkeley Plantation, birthplace of the ninth president, William Henry Harrison. Both plantations are along the James River, offering stunning views. House tours are available by appointment only at Sherwood Forest, or explore the 25-acre grounds on your own. A costumed guide, meanwhile, leads house tours at Berkeley Plantation. Berkeley Plantation also has the distinction of being the site of the first Thanksgiving in 1619, the Virginia Thanksgiving Festival is commemorated here each November.
Other things to do: Take a family bike ride along the Virginia Capital Trail and have lunch at Cul's Courthouse Grille near the Charles City Courthouse.
Save on Places to Stay:  When visiting Williamsburg Area check Colonial Williamsburg – they have family (and dog) friendly Griffin Hotel and family friendly Williamsburg Lodge. They also have the Colonial Houses where you stay in free standing Colonial Homes right in the heart of Colonial Williamsburg. The Williamsburg Inn with its beautiful spa and amazing restaurants. Visit here for the latest deals from Colonial Williamsburg!
the Greensprings Vacation Resort Groupon They often have Groupons running and it is a very family friendly, nice location with suites with kitchens, indoor pool, heated outdoor pool, putt putt, playgroundss and is in a central location.
HOURS & TICKETS: Website: sherwoodforest.org;   berkeleyplantation.com
---
Montebello
Montebello
Zachary Taylor was also born in Virginia, on Montebello plantation in Orange County. However, the site is privately owned and not open to the public, though there is an historical marker designating his birthplace.  So this last one you can only drive by on your path to other Presidents homes. The"Marker is at the intersection of Spotswood Trail (U.S. 33) and Old Montebello Drive, on the right when traveling east on Spotswood Trail. Touch for map. Marker is in this post office area: Gordonsville VA 22942, United States of America. Touch for directions.," Information is from the Historical Marker Data Base.
So best part of all these President's homes is that you will be spending time with your favorite people while visiting them. Enjoy!
Find more great family friendly destinations on our Family Travel page!