Memorial Day Weekend 2023 – Check out Things to Do Below!
Remember those who served, there are several local commemoration ceremonies. Beat the heat at Water Country and local pools. Enjoy Busch Gardens, the Food & Wine Festival will remain open on Memorial Day. Local and regional museums have special Memorial Day events like Colonial Williamsburg and Yorktown. Lots of family fun activities to celebrate the holiday! Here are some of our things to do on Memorial Day Weekend in Williamsburg and surrounding areas! After the numbered items there are tons of posts of events as well!
Monday, May 29, at 10 a.m. a Memorial Day Commemoration on the Palace Green. Free and open to public. The Colonial Williamsburg Foundation honors the men and women of the United States military who sacrificed their lives to defend our nation with a traditional wreath-laying ceremony.
---
Colonial Williamsburg is offering FREE admission during Memorial Day weekend, Friday, May 26 through Monday, May 29, to all active duty Military, Reservists, Retirees, Veterans, National Guardsmen and their immediate dependents.* Free admission includes: Admission to historic trades and sites. And admission to two world-class art museums. See details here
---
Yorktown Market Days – Saturday, May 27, 2023 from 8 am – 12 pm – Artist and farmers market on the Yorktown Waterfront. Enjoy spectacular views of the York River, live music, food trucks and a fantastic variety of vendors and artists.
Grace Church Memorial Day Ceremony Monday, May 29, 2023 from 10 am – 11:30 am -A prayer service will be held in Historic (ca 1697) Grace Episcopal Church. Following the service , a brief ceremony will be held in the Cemetery with playing of "Taps," all attendees will participate in a hand salute (as appropriate for active duty military/veterans) or with reverence, to the 107 known Veterans buried in the Grace Episcopal Church Cemetery, and all deceased men and women who have served our country in uniform.
Fifes and Drums of York Town Monday, May 29, 2023 at 11:45 a.m. Just prior to the start of The York County Memorial Day Ceremony, the Fifes and Drums of York Town will march to York Hall.
York County Memorial Day Ceremony: Monday, May 29, 2023 at Noon. The annual York County Memorial Day Ceremony will be held at the War Memorial on the grounds in front of York Hall, located at 301 Main Street in Yorktown beginning at 12 noon. The Keynote speaker will be York County Historical Committee member, Tim Smith. Members of Veterans of Foreign Wars, Post 824 will serve as the Color Guard. The laying of wreaths will be conducted by the Disabled American Veterans, Chapter 13, the Comte De Grasse Chapter, Daughters of the American Revolution, and the Moore House Society, Children of the American Revolution. The Military Service Flags will be presented by the York High School NJROTC. The National Anthem will be sung by SMSgt USAF, Terry Taylor. The ceremony includes the playing of "Taps." In case of inclement weather, the ceremony will be moved inside York Hall.
---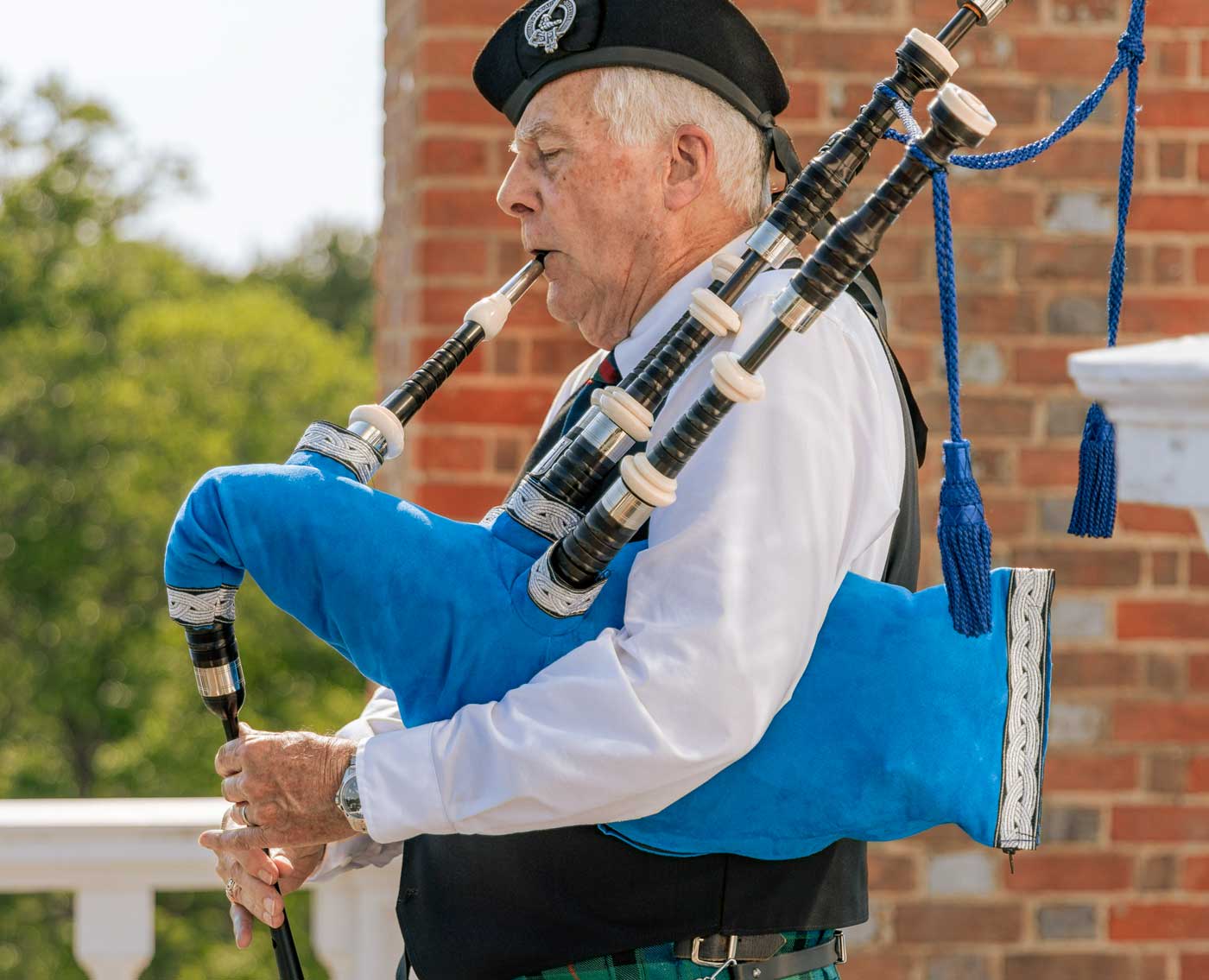 Monday, May 29, 2023 from 4:40 pm to 5 pm
Palace Green (Free and open to the public)
To conclude Colonial Williamsburg's Memorial Day observance, a lone bagpiper plays iconic selections from the Governor's Palace in a heartfelt tribute to those men and women who gave their lives to our nation while serving in America's Armed Forces. More info
---
Honor the men and women who gave their lives in service to our country by visiting the Virginia War Museum on Memorial Day. Admission is free on May, 29 from 9:00 a.m. to 4:00 p.m. on this day.
---
Go to the Daily Events Calendar to find all the great things going on throughout the week and weekend!