The Williamsburg Farmers Market is now back! You can still shop online if you prefer. The online store will close on Wednesdays and reopen on Saturdays.
There are a few requests such as wear a mask and no pets (see below). We attend the market last weekend, the set up is great to ensure a safe experience for all and plenty of volunteers in bright green shirts to help answer questions.
NEW Market Location:
Enter at Henry Street
Duke of Gloucester Street Between Henry Street and Nassau Street
Williamsburg, VA 23185
July 18, 2020
8 am – noon
The market encourages pre-ordering from vendors through their online platform. If you pre-order, you can skip the regular market line and enter on the side of the tent where they are selling tokens click here to start shopping. Order by Wednesday to pickup on Saturday at the Market.
The Market accepts SNAP/EBT, credit cards, and W&M Express.
This week at the market:
COVID safety plan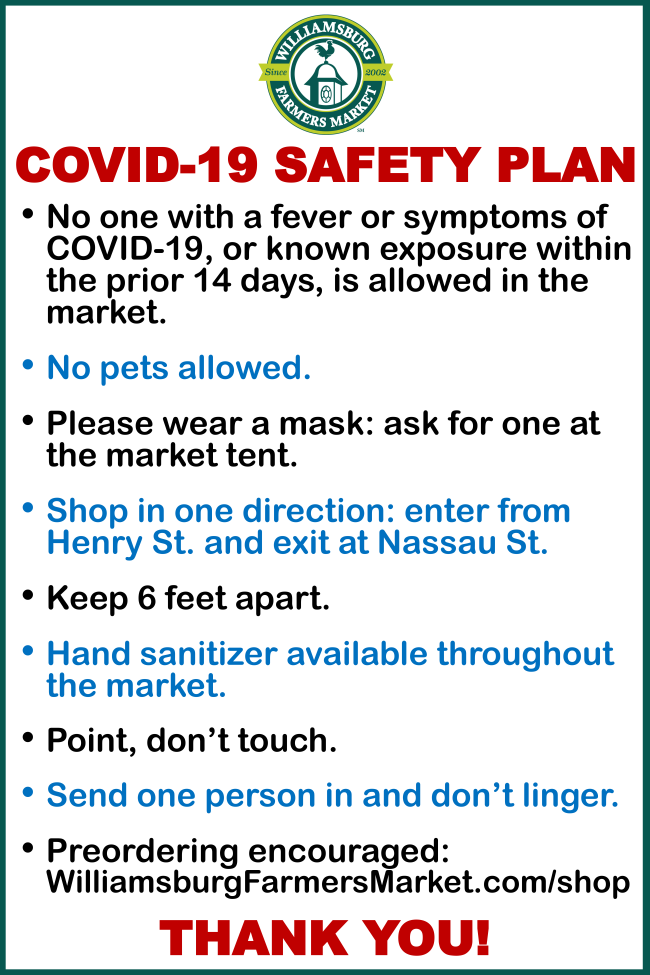 Pre-order details
Pre-orders can be picked up directly from the vendor between 8 am and noon. There will also be 4-5 parking spots designated for pre-order pick up in the P4 lot behind the Colonial Williamsburg ticket window. If you pre-order and are at higher risk you can pick up your orders before the market opens between 7:30 am and 8:00 am. To pre-order, shop here , the online store will be open from Saturday through Wednesdays at midnight.
Visit their site website for available products and produce www.WilliamsburgFarmersMarket.com