Buc-ee's is coming to New Kent – it's first location in Virginia. What is Buc-ee's? We're glad you asked..
Buc-ee's is a 24 hours a day, 365 days a year huge convenience store, with fuel, food, car washes (open daily 7am to 8pm, weather permitting), and apparently, the cleanest bathrooms in the world. Their hot food is made to order 24 hours a day. At their travel centers, 4 am is when breakfast starts and goes till 11 am, then lunch starts. They have freshly made grab and go items 24 hours a day. And their jerky, bakery, fudge, and Dippin Dots counters operate 24/7! Sounds dreamy!
Buc-ee's has locations in Texas (quite a few, actually), Tennessee, Florida, Georgia, Alabama, Kentucky, South Carolina and soon…New Kent, Virginia. When is Buc-ee's opening in New Kent, Virginia? Buc-ee's is opening in New Kent, Virginia in 2027. (Scroll to the bottom of this post to see the exact location and info from New Kent County Economic Development)
What is interesting is that their website says that "The New Braunfels [Buc-ee's] store is the largest convenience store in the world at 66,335 square feet." The one in New Kent is going to be 75,000 square feet. Will that make the New Kent Buc-ee's the largest convenience store in the world? Not sure, but that is one question to ask!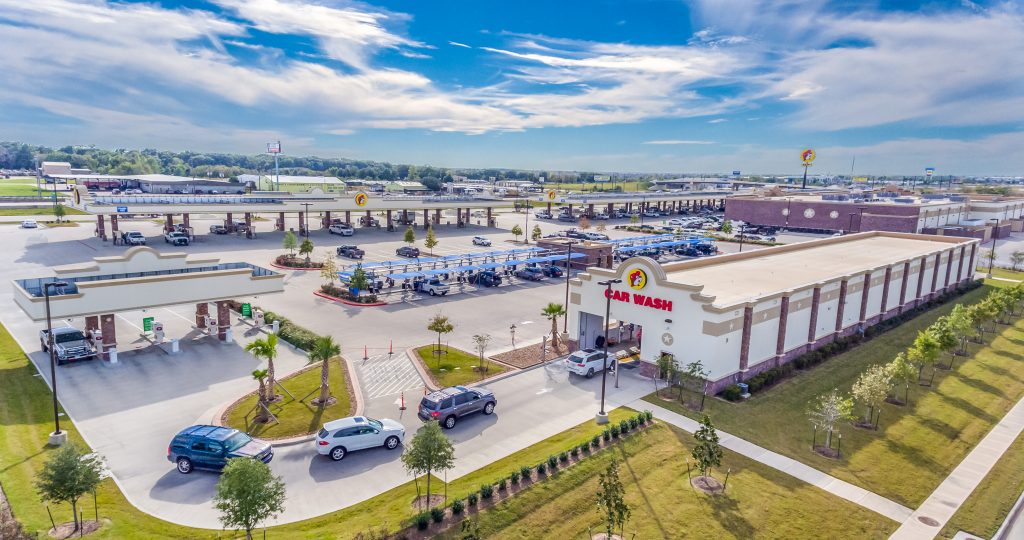 They also boast about having the world's longest car wash – which has 255 feet of conveyor to wash all those road-filthy cars passing down the I-64.
Want to see what a Buc-ee's looks like and what are some great food items to purchase? Check out AllRecipes reel from @annibell14 who stopped by a Buc-ee's to find out why it has become the most popular convenience store in Texas. Watch and see her top picks to purchase!
The following information is from the New Kent County Economic Development's FB post.
Buc-ee's Travel Center intends to expand their operations to New Kent County, Virginia at the exit 211 interchange along Interstate 64. The company plans to construct a 74,000 SF store with 120 fueling positions, 557 parking spaces, 24 Tesla charging spaces and 10 bus/RV parking spaces. The anticipated opening date is 2027. A Conditional Use Permit has been submitted to the County's Planning and Zoning Department. The Applicant's request for this Conditional Use Permit is solely limited to the review and approval of a proposed sign plan.

According to the company, "Buc-ee's Travel Center is a family-focused travel center featuring a wide range of freshly prepared foods including home-crafted bbq, custom made sandwiches, fresh salads and fruits, baked goods, and sweets as well as a unique collection of gifts, housewares, clothing, and weekend get-away gear. Buc-ee's is open 24/7 and provides our guests with the cleanest restrooms and friendliest staff to be found anywhere; much less on I-64. Buc-ee's is not a truck stop; 18 wheelers are not allowed on the property. Buc-ee's is a one-of-a-kind destination. Buc-ee's will employ (full time with benefits) over 175 residents earning an average minimum wage of $16-18 per hour".

The Buc-ee's development team is currently working closely with VDOT and County planning staff to evaluate the transportation improvements required by the Project including, but not limited to:

a. Coordination of design and construction efforts with the ongoing I-64 widening project

b. Implementation of anticipated overpass revisions/additions required to serve the project and surrounding commercial development

c. Project schedule coordination to ensure required traffic improvement completion is synced with project completion

The Virginia Department of Transportation, Kimley-Horn and Associates and New Kent County partnered in 2015-2016 to complete the Route 106 Arterial Management Plan (AMP), which can be found here:

In 2015 and 2016, the consultant team for the AMP updated the Planning Commission and Board of Supervisors at key milestones, conducted stakeholder interviews and held two public information meetings to give the citizens an opportunity to comment on the plan as it was being developed. The final plan provided short-term, mid-term and long-term transportation improvements to accommodate full build-out of the study area.

The submission of an application indicates a major step forward in bringing a new business to the County that will become a catalyst for economic growth and a significant tax revenue generator for the locality. If you have any questions on the Conditional Use Permit application, all documentation can be viewed in the Planning and Zoning Department, Monday-Friday from 8:00am-4:30pm.